Turbulator Fans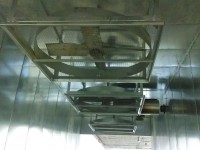 A1 Walls MFG's products to use with our Insulated Metal Panel structures. The most common addition is our motor driven Turbulator fans. Our fans are built to withstand the high temperature of 500 degree ovens, and keep circulating 16,000 cfm in a 10'x10′ floor area at 200 degrees. Comes with safety cage and complete with desired voltage, drives, and guard.
Turbulator Specs:
 RPM: 500 (20,000 c.f.m.)
Power: 3 HP 1750 RPM
Dimensions: Base 22″ tall x 22″ wide x 38″ long with 48″ prop blade, 1 15/16″ shaft with 54″ safety cage x 24″ tall
Parts:
We offer replacement parts for our oven products.
Custom Options:
Build Custom Accessories & Parts
Order & Install Custom Accessories
We feel like the customer has a good idea what they want or need for their application. It's our job to listen and provide the best solution with the best price. That is our goal.
---
Accessories